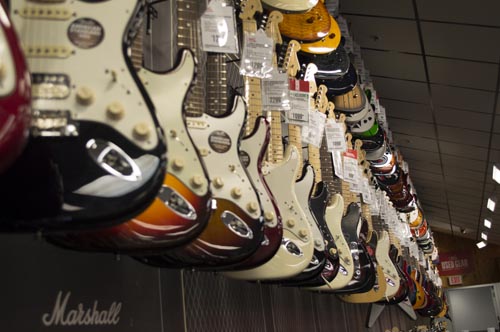 Whether you're picking up the guitar for the very first time or looking to add another axe to your collection, finding a local guitar shop is your first port of call.
Fortunately for guitarists and budding musicians, there are plenty of music shops in Bolton to buy a guitar from.
Before you go, have a look online at the styles out there – this will make it easier when browsing the shops, especially if you're looking to get your hands on a specific make such as a Paul Reed Smith Custom 24 or an Ibanez bass guitar.
Booths
Situated near the Old Man and Scythe on Churchgate in Bolton, Booths Music Shop stock a variety of acoustic, electric and bass guitars and accessories in addition to the brass, percussion and wind instruments. Also a good stop for sheet music.
The Guitar Shack
The Guitar Shack at Octagon Court is a great place to check out if you're looking for a deal on a second hand guitar with guitars bought and sold.
HW Audio
With a range of guitars from Fender, PRS, Martin, Schecter and Yamaha with amps and pedals from Blackstar, Vox, Line 6 and Boss, HW Audio have a wide and varied selection to choose from, whether you're looking to buy an acoustic guitar, electric or bass.
Rimmers
Rimmers are online as well as having a chain of shops, one of which is in Bolton. They stock the more popular manufacturers of guitars such as Encore, Fender, ESP, Ibanez and Gretsch.
When buying a guitar, any guitar, always visit the shop and have a play of a few different ones. What they look like online and how they play in reality can be very different.
Finding a guitar which is right for you is a very personal thing with weight, neck thickness and length, feel and sound all qualities you'll want to take into account. All good retailers will let you try the instruments to find one that suits you and don't feel pressured into buying the first thing you see. Do the research, find the one you like and check prices elsewhere as many retailers will often price match if you're buying new stock from a UK retailer. If you're a complete beginner and don't know where to even start, take a look at my recommended guitars for beginners.
If you can't find what you need locally or want to see if anyone online can do a guitar you've seen and tried at a better price, then there's loads of online retailers out there such as Gear4Music and Andertons who sell guitars and deliver to your door.